Hello! I'm Preshit Deorukhkar, a Digital Media Consultant, technology enthusiast, connoisseur of good visual design and cinematographer from Mumbai, India.
I'm the Founder & Principal of iXyr Media — a multi-discipline digital media company based in Mumbai, India. I love playing with and learning about new technologies, products, and services and helping others grasp them easily. I'm the Editor-in-Chief at SharpShutter.co, Chief Curator at SF.w, Partner at SharpShutter Media and the Technical Director at the Filmingo International Short Film Festival.
Formerly, I've been the Editor-in-Chief of Beautiful Pixels, The Platter, and App Icon Gallery.
After a decade of working independently, I'm now working on Content & Marketing at Readdle — makers of the best productivity suite of apps for iOS & Mac.
Nuclear Bits is where I write about technology, Apple, photography, India, the Internet and other topics that interest me. You should Subscribe to the RSS Feed and Follow @nuclearbits on Twitter.
This site is powered by WordPress (with JetPack, of course!) and runs on a server at Digital Ocean.
About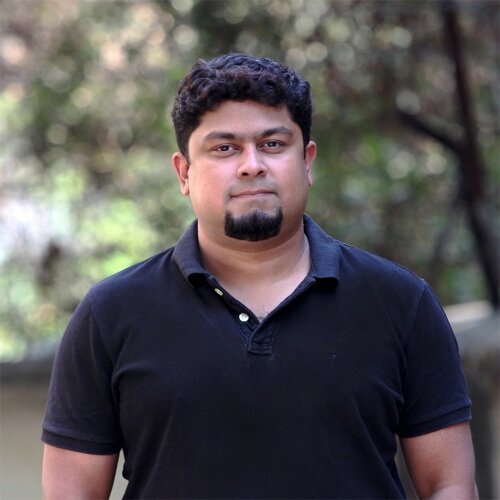 The question that I get asked most often is how do I pronounce my name. Maybe it'd help if I started spelling it as Préshit. The first part of my name is pronounced as 'Pray' while the last one rhymes with 'myth'.
I'm 32, married, and live in the suburbs of Mumbai, India. For as long as I can remember, I've been passionate about building stuff on the web. I first started using the internet sometime in 2001 and spent the early years spending time on "Bulletin Boards" or "forums" (Remember those?) and learning to build websites. In 2006, I started a web-hosting company called Expertrio Web Services. In 2008, I co-founded Smoking Apples — a now-defunct blog that covered in-depth reviews, analysis, views, opinions, tutorials, and how-tos about all things Apple. In 2009, I co-founded Beautiful Pixels — a blog that features a showcase of anything and everything that has beautiful pixels. Then in 2010, I put together a small but genius team of passionate individuals and started working on Homescreen.me — a website that lets you showcase your iOS device homescreens and the apps you're using on them. In 2015, I launched The Platter — a site for app enthusiasts. Then in 2017, I launched App Icon Gallery and SharpShutter.co.
Apart from being the Editor on Smoking Apples and Beautiful Pixels, I have also been an Editor on sites like WATBlog, MobileIndustryReview, The Fifty Paise and IndiaGSM and briefly, the India Editor at The Next Web.
I have also enjoyed working as the Sr. Public Relations Executive at Sourcebits and as a Creative Producer for Videos at NDTV's Gadgets 360.
Gear
A 2016 MacBook Pro

(15″, 2.6GHz, 16GB)

attached to a 27″ LG 4K Display with USB-C.
iPhone Xs Max

(256GB, Silver, Unlocked)

Apple Watch Series 4
Sony a7r Mark II with Sony Zeiss 55mm F1.8 lens