At an event held in Mumbai yesterday, Ricoh India announced the Theta S— the company's latest handheld 360 degree camera and the successor to the previous generation Theta m15. The new model, touted by the company as "high-spec top-of-the-line" has been priced at Rs. 40,000 in India and is capable of capturing full 360 degree images with a single click, as well as Full HD 360 degree video at 30fps with 25 minutes of continuous shooting. The battery life is pegged at around 300 shots.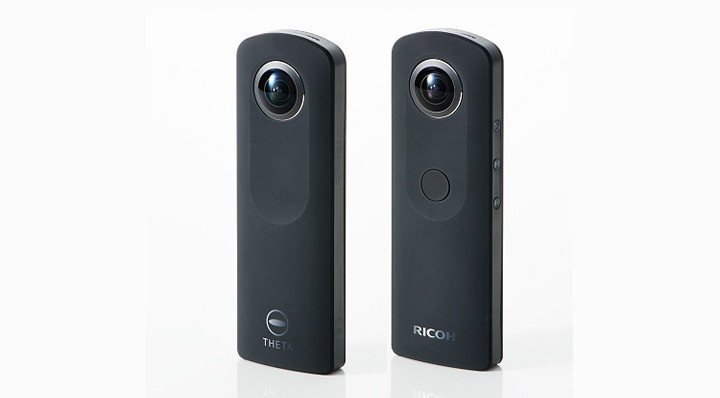 I got to spend some "hands-on" time with the Theta S at the event and it is undoubtedly one of the most interesting cameras that I've come across. It is fairly small, about as tall as a typical smartphone and as wide as a matchbox (or around 130mm x 44mm x 18mm) and weighs about 125 grams. It has two fish-eye lenses pointing in the opposite direction that capture 12 Megapixels each and output an image that's equivalent to 14 Megapixels. The Theta S does an incredible job of stitching the images it captures — I perused through about 20-odd images and not one had any visible stitch lines, except for the areas exactly below the camera, usually due to your hand that holds the camera.
The Theta S has a apps available for iOS and Android (similar to GoPro cameras) that let you control your camera with your smartphone and transfer the images taken from it. I connected my iPhone 6 to the demo unit available at the event and setup over Wi-Fi was ridiculously easy. Once you transfer the images, you can edit them (like blur out certain areas) and publish them to social networks right within the app.
I love the fact that the Theta S adheres to Google's Spherical Image API spec and is compatible with the Google Street View app. I have been taking Photo Sphere images at places I've traveled to and publishing them to Google Maps (Here's my profile) and it was great to know that the Theta S works directly with the app. When you have the camera connected to your smartphone, you can use it from within the Google Street View app to take one-click photos and publish them to Google Maps (or keep them private). This alone makes the Theta S a far more interesting camera for me. If you're a developer, there's also an official API and SDK available for you.
I only got to spend a few minutes with the Ricoh Theta S, so I'll reserve my full judgement after I get to try it for a few days at a stretch, but you can probably tell how excited I am about it. At INR 40,000, it's not something that'd interest a lot of buyers, but enthusiasts are definitely going to love it.
Here's a test photo I clicked on the demo Theta S at the event (requires Flash to view):
First Test Photo – Test Photo from the RICOH THETA S