This past Sunday, I attended a special screening of the India vs. South Africa match from the ongoing Cricket World Cup 2015 in glorious 4K. The screening was arranged by Tata Sky for the Media to showcase their UHD 4K set-top-boxes that the company recently started offering its customers. The screening was held at Olive Bar & Kitchen and I accompanied Prasad to this event. India did end up winning the game and it was a lot of fun to watch the game in 4K. Here are some thoughts about the whole experience.

Before I begin, I should mention that I have been a Tata Sky customer for about nine years now. At home, I currently have a Tata Sky+ HD set-top-box as my primary connection and a regular Tata Sky HD STB as the secondary "multi-tv" connection. I was looking forward to experiencing their 4K offering not just as a early-adopter geek, but also as a regular customer of theirs.
At the screening, there were two Sony Bravia 79" 4K TVs set up for the viewers (KD-79X9000B), one indoor and one outside. Unfortunately, both the TVs had only a single speaker connected to them, which I thought was an odd choice considering the 5.1 sound is part of the whole experience.
The picture quality of the broadcast was just about how I'd expected it to be. The picture was crisp and you could easily tell the difference between a 1080p 1080i broadcast and the 4K broadcast. The latter is also completely ad-free. Just like when HD channels were introduced by DTH operators, the Star Sports 4K channel does not have any ads at all and during the ad-breaks for SD/HD channels, there are replays shown here instead. It's interesting to see what goes on on the field during the drinks break or even the Innings break.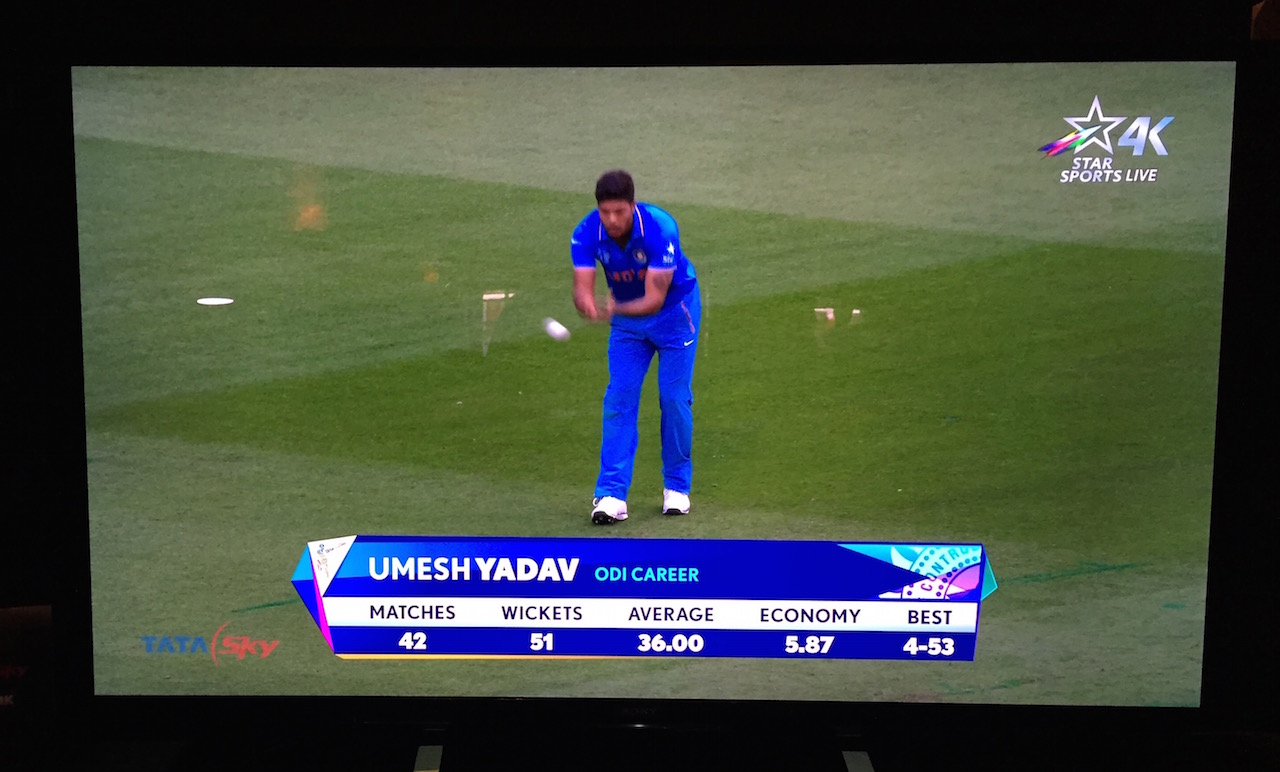 Star Sports 4K is the only 4K channel currently active, so the rest of your channels are all displaying 1080i content on a 4K display.
Tata Sky has priced their UHD 4K set-top-box, officially called "Tata Sky 4K" at Rs. 6400 for new customers or Rs. 5900 for existing customers. I was disappointed with this box for a few reasons. First, if you're upgrading from a Tata Sky+ HD connection, you lose all the "plus" features. For example, on the UHD 4K box, you cannot record, rewind, pause, schedule at all. Not just the 4K channels, but any channel. You can get the UHD 4K STB as an addon (Multi TV connection) and continue using these features on your existing Tata Sky+ HD STB, but it'll unnecessarily cost you an additional INR 200/month.
Additionally, it was also disappointing to see that Tata Sky haven't updated their On Screen Display (OSD) on the UHD 4K STB. So the text for the menu, program guide and channel info is all blurry and jagged on your grandiose 4K television.
The sound on the 4K channel was also very low compared to the other channels, so whenever you change channels, god bless your ears.
For the India vs. South Africa game, ICC's official broadcaster is Star Sports and they have 4K cameras on the field to record the action live. Star Sports also have a dedicated 4K channel for this broadcast, available on Channel No. 400 on Tata Sky. This channel will telecast seven matches from the World Cup, 4 of which will be India's matches and the remaining 3 will be Semi-Finals and the Final. Apart from this, a consumer can enjoy content from the Discovery channel in 4K and I was told that additional content was coming soon.
Overall, it really doesn't make sense to jump onto the 4K bandwagon just yet. There's almost no content for you to enjoy right now. Of course, if you're super rich and/or have already invested in a 4K television for some reason, then spending 6k more on a service that does give you a 4K stream is a no-brainer. If you have a HD TV, I do recommend a Tata Sky+ HD connection though.