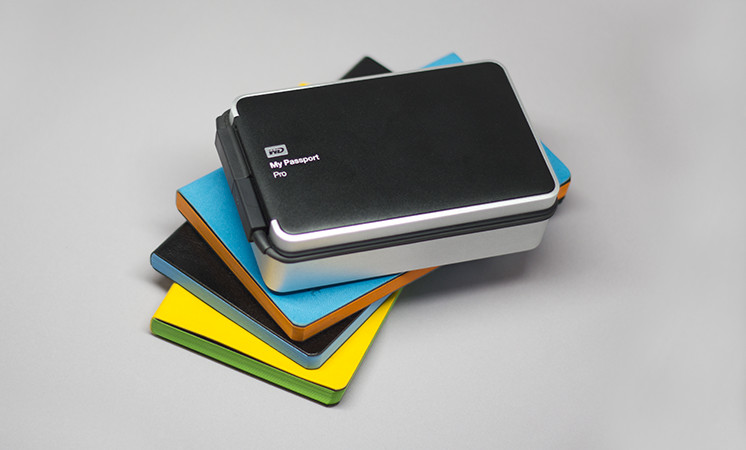 For as long as I can remember, Western Digital (WD) has been my favorite storage companies. They've long been making phenomenal hard disk drives and I've personally owned several of their products since 2003. I presently own four external drives to house all kinds of data and to power my backup and I couldn't be happier with their performance, compared to the drives from a couple of other companies that I've tried in the past, one of which failed on me in just six months. That's why I've only recommended WD drives (or Hitachi) to my friends & peers whenever I've been asked about one.
A few weeks ago, WD India was kind enough to send me a review unit of the My Passport Pro. I have a 13" MacBook Air with a mere 128GB of storage and this drive has been a near perfect storage extension for me over the last few weeks.
The Hardware
The WD My Passport Pro is a portable RAID storage drive powered by Thunderbolt. It is targeted towards users who are always on the move and need to carry a bulk of data, such as pro photographers, video editors, etc. The product is available in two versions — 2TB and 4TB — each of which contains a pair of 2.5-inch 5400-rpm drives. Both versions come pre-configured in a RAID 0 configuration, designed to give you maximum speed & capacity. Of course, you can reconfigure the drives in a RAID 1 or JBOD configuration if you want.
Both the drives are enclosed in an anodized aluminum casing. A quick few minutes spent using it make you realize that the external casing that houses the actual drives is built solid and sturdy. No, the My Passport Pro isn't designed to take on rough usage like some Lacie drives, but it's still good to see that WD decided to encase the drives using aluminum instead of cheap plastic. The drives are also considerably heavy — the 4TB version weights about 700 grams.
Unfortunately, it tends to get pretty hot in there as the drives are revved up to max speeds and WD has had to put a fan at the back of the device. The fan doesn't run 100% of the time, it's only needed when the temperatures inside rise, but along with the temperatures, the noise levels rise up as well once the fan kicks in. It isn't super noisy, but when sitting next to a near silent MacBook Air, it's easily audible. The fan also means that the casing isn't completely sealed and dust tends to start collecting near the openings. This is worrisome, especially in Indian metro cities.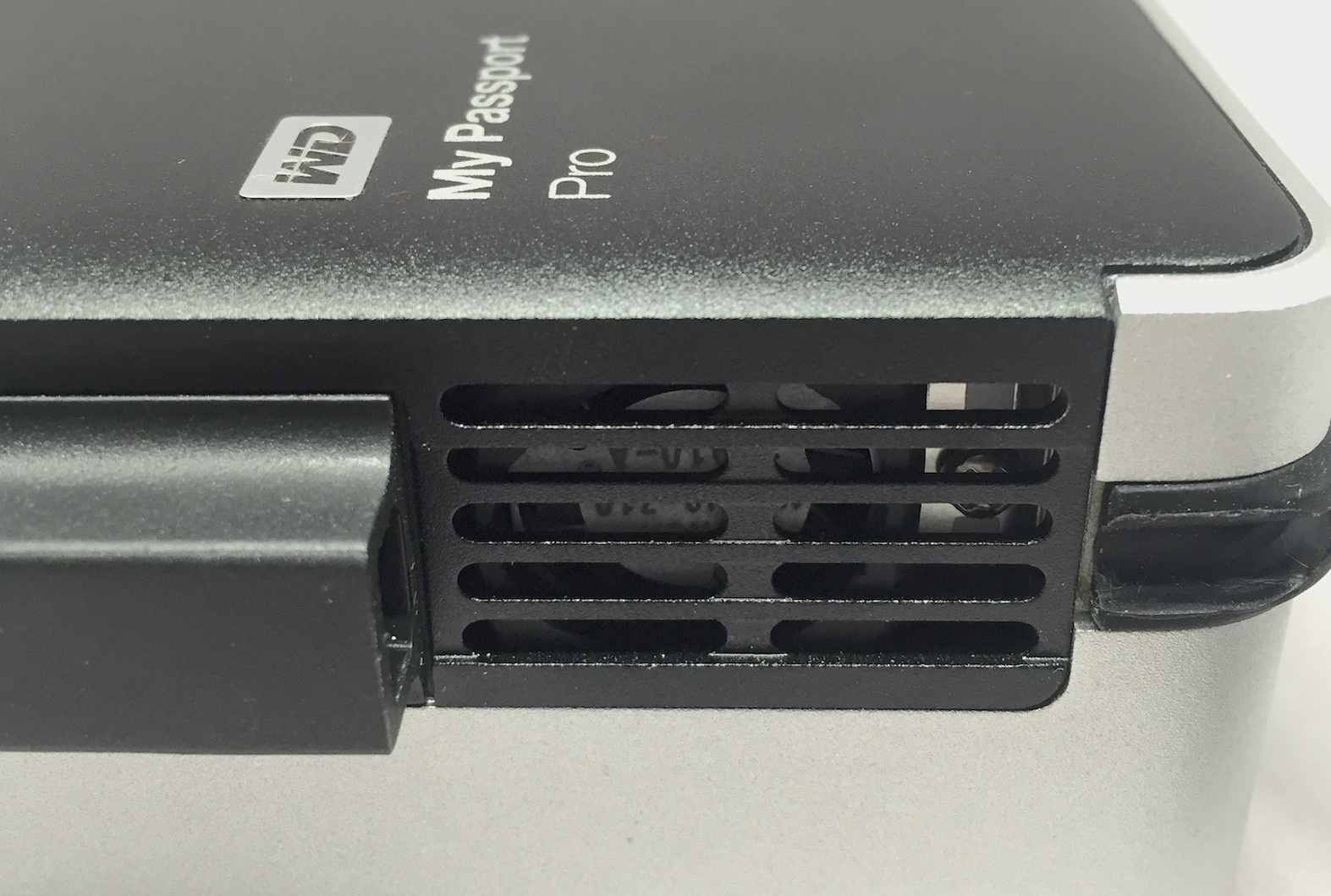 The Connection
The My Passport Pro comes with a permanently attached cable with a Thunderbolt port and there are no other connections or ports on it. It also doesn't require any external power source, as it draws all its power through the host device only. Unfortunately, due to the lack of a secondary Thunderbolt port, there is no way to daisy chain this. If you have only a single Thunderbolt port, like my MacBook Air, you can only use one device at a time.
The permanent cable wraps around the device and tucks into a rubber groove meant to hold the cable. The Thunderbolt at the end is pushed into an opening right where the wire sticks out of the aluminum casing, so that it completely wraps around the box. The cable length is exactly as much as the perimeter of the box, so it fits in snuggly into the grove and the box looks way nicer this way. However, this also has a disadvantage. Due to the 'perfect' length of the cable, there's also no way to quickly tuck the Thunderbolt port into its holder — you have to tuck the cable snuggly into the grove first and only then you can push in the port into its holder. This isn't a huge deal, but it gets annoying when you just want to pick up the drive and leave.
The Software
Western Digital offers the WD Drive Utilities app to configure and manage the drive. This app ships along with the drive and is also available for download directly from their website. You can use the same app to manage multiple WD drives that it supports.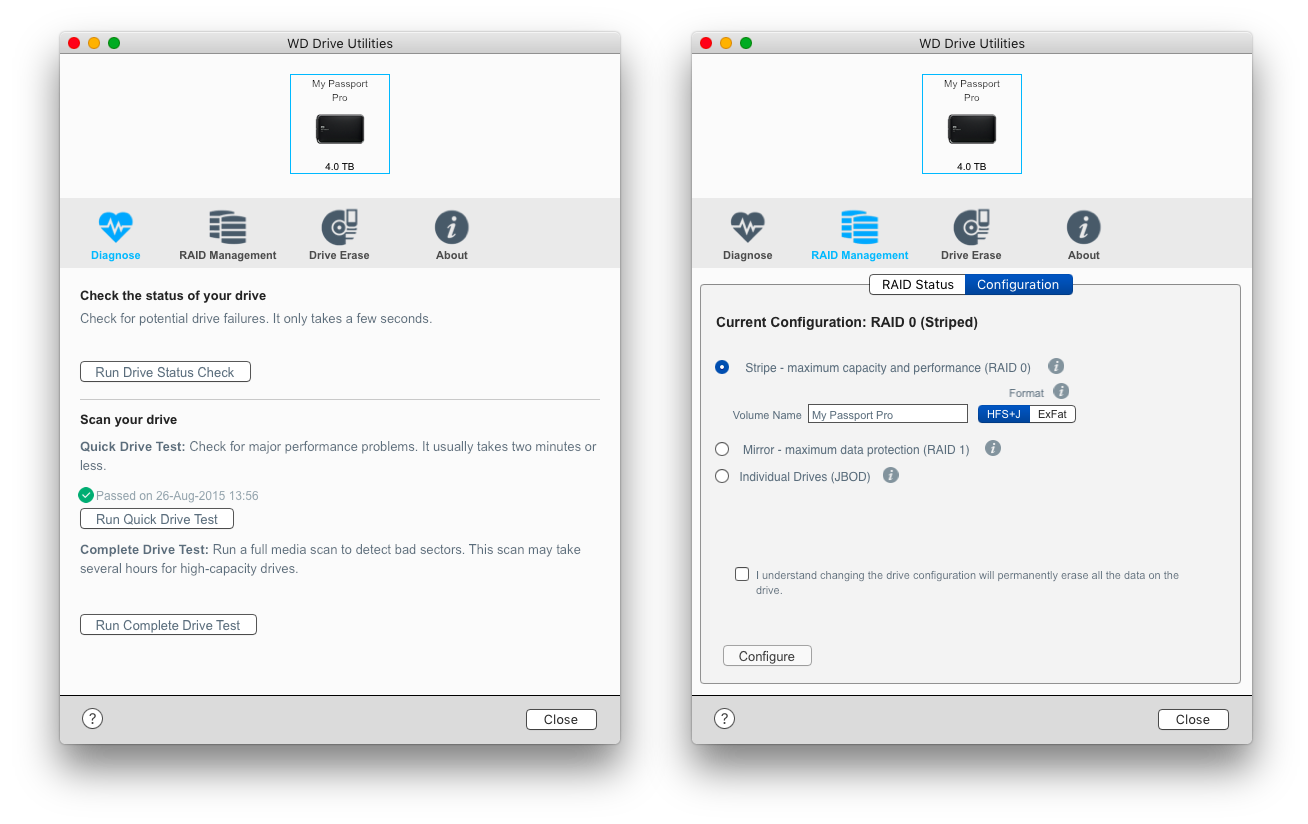 The My Passport Pro that I received for review shipped with an older, 1.x version of the app, so I had to update the app on first launch. Thankfully, newer drives contain the latest version available at the time of manufacturing.
The app is extremely simple to use and makes configuring your My Passport Pro a breeze. It detects your drive as soon as you connect it and gives you dignostic options such as 'Run Drive Status Check' (Smart Status), 'Run Quick Drive Test' and 'Run Complete Drive Test'. Similarly, the RAID management tab allows you to (re)configure the drive in RAID 0/Striped for Maximum Speed and Capacity, RAID 1 for redundancy (2GB mirrored) and JBOD (Individual Drives, as physical drives).
The Performance
Here's how the My Passport Pro performs on Blackmagicdesign's Disk Speed Test app.
In my usage, I was seeing about 80% of the speeds above, which is still great for everyday usage.
Should you get it?
The 4TB WD My Passport Pro is priced at INR 33,000, but sells for about 31k on Amazon.in. For that much storage, that sure is a steep price, but you are paying for the convenience of a portable drive that's fast and also offers redundant storage. This drive is especially great if you shoot a lot of videos on location and quickly need to backup and reuse your memory cards and there's no power outlet available.
Unfrotunately, there's one specific trait that I find very concerning. The My Passport Pro has a permanently attached Thunderbolt cable that wraps around drive, as I've explained above and is very prone to breakage over prolonged usage. I asked the company what it would cost to get a damaged or torn cable repaired, and I was told that the cables for the drive are not covered under the warranty and the cost to get it fixed varies depending on the actual damage and also, weirdly, which service centre one visits to get it fixed.