This is Part I of a multi-part series that takes a look at the various video streaming services available for India.
If you're a savvy internet user like me, you know there are quite a few streaming services now available for the Indian audience, both for audio and video content. I have tried and/or extensively used quite a lot of these video streaming services over the last year or so, and while we're still far from seeing Netflix or Hulu launch here in India, the services that we do have available are definitely showing some promise.
I'm starting off this series with a look at Spuul. Spuul is one of the first streaming services that I had come across, somewhere around 2013, a year after its public launch. Spuul currently focuses on offering a large catalogue of Indian movies and TV shows to a global audience and offers a Universal iOS app, an Android app, as well as the option to streaming movies in a broswer (Flash required).
Pricing Model
Spuul makes use of a three-tier pricing. The base tier is a Free, Ad-supported plan that gives you access to close to 150 Movies in the Free Catalogue. Unlike other typical services, Spuul does not limit your usage to any device. You can watch a movie across any of your iOS, Android, Mac or PCs for as many hours as you want. This Free plan even lets you download content for offline viewing.
In case you don't want to be bothered by ads, or just want access to the entire Spuul catalog, you can sign up for the Premium plan, which is a monthly subscription of just INR 300. This plan gives you access to the Premium Catalog along with the Free catalog from the base plan and there are no ads to bother you. Everything else stays the same.
There's a third tier called Special that is essentially a Pay-per-view or 'Rental' category. Spuul offers a select few movies under the Special Catalog for INR 60 each, that you have to finish watching within 72 hours. The movies in the Special catalog aren't exclusively new movies, as it also includes classic titles like Silsila, Kabhi Kabhie, DDLJ and Lamhe.
Apps
Spuul offers iOS and Android apps to browse, stream and download their content for offline viewing on your mobile devices. These apps are fairly well done and work as they should. I have spent most of the time in the iOS app, so my thoughts and comments are based off of my usage with it.
I'm not particularly fond of the Spuul's choice of User Interface design for their iOS app. There's a lot that they can achieve with such a media rich catalog, so the plan jane black background app and button with a little border look quite odd. That's not to say that the app looks bad, but it could be even better if the designers spent some time on it.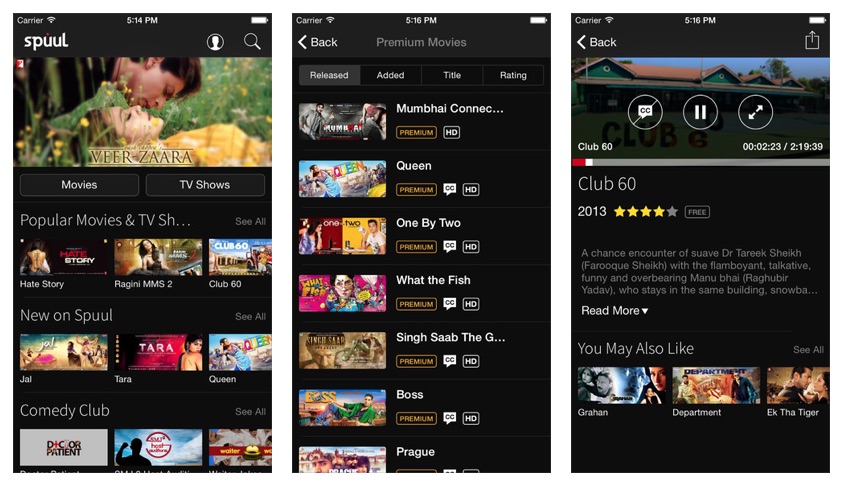 The main screen of the app lets you discover movies to watch. At the top is a slider with some featured movies, followed by Recommendations and specially curated categories like Family Time, Pyaar Mein Twist, Shaadi Vaadi, Leading Ladies, Nawaz & Irrfan Special, Critically Acclaimed, etc. You can search for a specific movie, or movies from a specific year, genre, language using the Search button at the top right.
Tapping on a movie loads additional information about it, such as it's year of release, rating, synopsis and poster. Here, you can add the movie to your Watch Later list or share it with your friends. Unfortunately, the app lacks support for the native iOS share sheet, so you're only options are Twitter, Facebook and Email. I was told this support is coming in an update, but I'm still waiting.
Once you tap play on a movie, it starts streaming instantly. You get the option of enabling subtitles for some movies that support them. Unfortunately, there's no way to manually select the quality of streaming — the app automatically decides that for you.
I really like that the app supports both AirPlay and Chromecast, allowing you to watch your movies on your TV or Monitor setups. There's also a "Join Chatroom" option for each movie, but this is a poorly formatted UI with completely unmonitored messages, so you're better off without this.
The Website
Spuul's website is a full-featured product that lets you browse and view their video catalogue. The visual design is in line with the design of their apps and I found the loading speed of the site to be quite good. There's a Flash-based video player that lets you select the quality of your stream, so you can force the player to stream the highest quality possible when needed. Unfortunately, a Flash based player means you can't use El Capitan's AirPlay feature.
TV Shows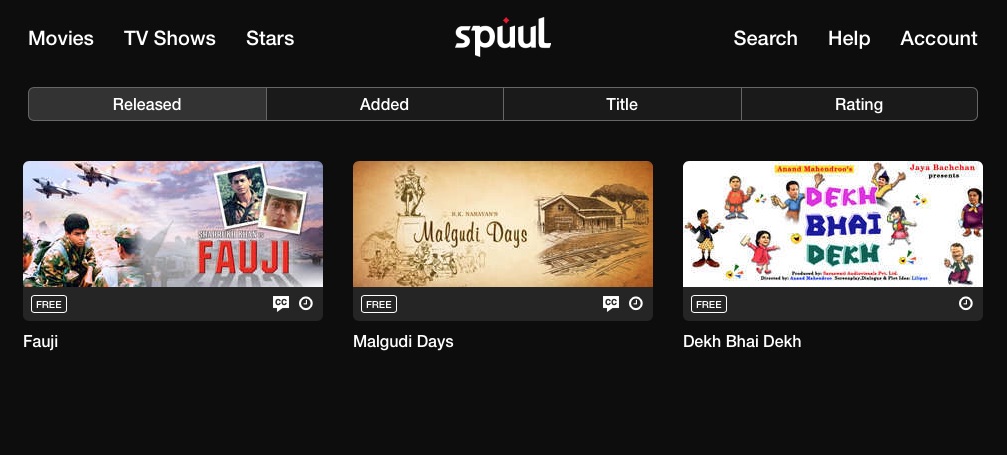 Spuul also offers a catalog of TV Shows, but it's severely limited. There are a total of three TV Shows available — Fauji, Malgudi Days and Dekh Bhai Dekh. I really hope the company focuses their efforts on improving this.
The Catalog
Spuul boasts of an extensive, studio-neutral catalog of over 900 movies, but I still found it to be quite limited compared to a few other options I've been testing. I was trying to see if my parents could like the service and even though they quite liked the app, the severe lack of any Marathi movies (there's only one) meant that they had to try other options.
Spuul has been a great app and service in my testing, but the somewhat limited catalog seems to be a bummer. I feel a premium subscription that was priced at ₹200/mon would be better, especially since you still have to shell out ₹60 per rental anyway.
Check out Spuul with a free trial of the Premium plan.
I'm hoping the company is already working on an app for the new Apple TV — this would make it an infinitely better option for me.