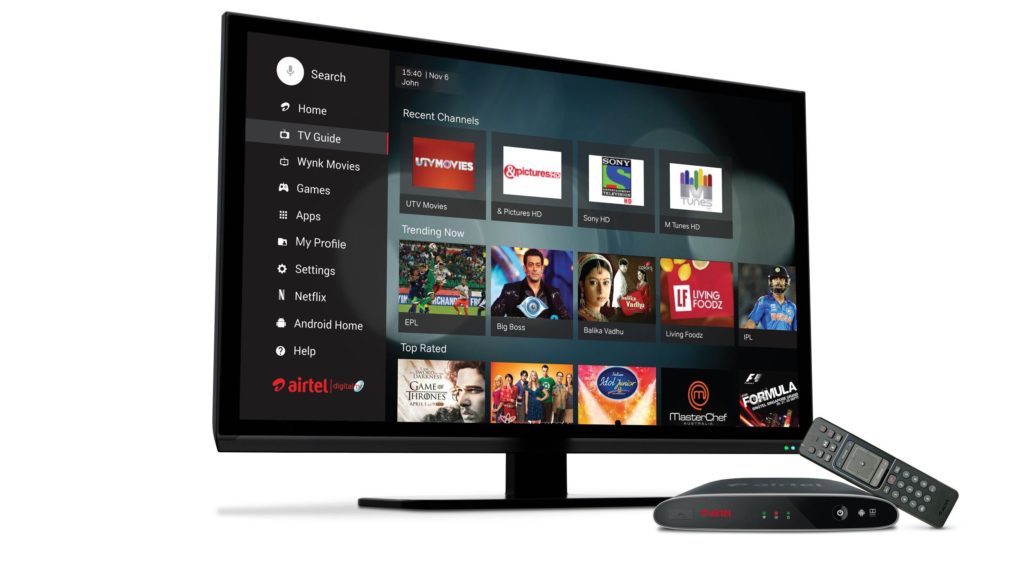 Bharti Airtel today introduced 'Internet TV' — a hybrid DTH set-top box for TVs. Touted as "India's first", the Internet TV box is powered by Google's Android TV and comes with a host of interesting features targeted towards avid viewers who stream a lot of online content.
Airtel's Internet TV is a Hybrid STB, bringing you the best of both DTH and the Internet. It brings you 500+ SD & HD channels from Airtel's digital TV service, as well as virtually any app downloadable from Google Play. You can download and install apps, games, including apps from online streaming services such as Netflix, Eros Now, HOOQ, etc. You also get access to Airtel's own Wynk services.

The Internet TV hardware isn't shy on specs or ports, featuring a 2GB RAM and 2GHz ARM processor, 8GB of internal memory (upgradeable to 128GB), 4K 60fps resolution, Dolby ATMOS, 10/100 ethernet port, built-in Wi-Fi, Bluetooth, and also comes with companion "gamepad" apps for iOS and Android.
Airtel is also offering a complimentary bonus to Airtel Broadband customers under its myHome offer. Depending on your plan, you either get 10GB or 25GB of free data every month.
A subscription to Internet TV is currently priced at ₹4999 for 3 months or ₹7999 for 12 months, the latter being a limited time offer. You can head to Amazon India to place your order.
Update May 1st, 2017: Airtel has now clarified that you do need an active DTH connection in order to continue using the non-DTH features of the device.
I was looking to order a couple of these boxes for my house to replace TataSky, but clearly that doesn't seem like a good idea yet.