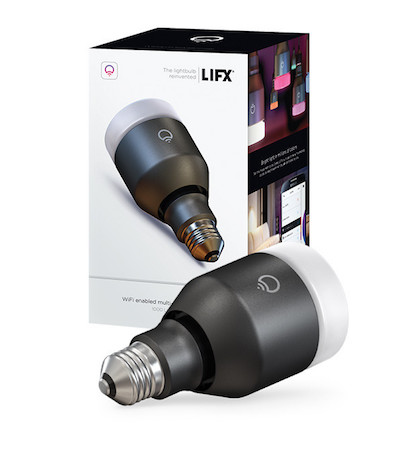 LIFX is a family of LED Smart Bulbs. These bulbs connect to your router over Wi-Fi and can be controlled using an app on your smartphone or tablet. Because these bulbs are always connected to the internet, you can use the power of IFTTT recipes to customize their behavior and mould them to your liking. These bulbs also do not require any 'Hub' and work independently.
Currently there are 3 products in the LIFX family:
The Original — 16 Million Colors and 1000 lumens
White 800 — 1000 shades of white and 890 lumens
Color 650 — Full Color Downlight and 650 lumens
I presently have two LIFX Original bulbs in my house, with a third one on its way. I purchased the first one 18 months ago and I love everything about it.
Today, the company has just announced that The Original LIFX bulb has received a price cut from retailing at $99.99 to just $59.99 now. If you've been on the fence about smart bulbs, now's a good chance to grab one.
You can order The Original LIFX Smart Bulb from Amazon or directly from their website, with both offering you Free Shipping in the US.