Earlier today, Factor Daily published this piece titled 'Why Apple is destined to fail in India' written by Vivek Wadhwa. A similarly-worded article from the author also appeared on The Washington Post and VentureBeat a day earlier. I subscribed to Factor Daily via RSS a while ago, primarily for the people behind the site who have delivered some great content in the past. I, however, was definitely not ready for this hilariously bullshit stream of content heading my way.
Now, usually when I come across a title as bold as this one about Apple, and they're dime a dozen these days, I usually either skip it completely or read it and then skip reacting to it. But this piece by Vivek Wadhwa has such ingenious crap filled inside, I couldn't help fire up Ulysses. Vivek's piece essentially says that Apple is destined to fail in India because the company fails to understand the Indian market and that "it is repeating the mistakes it made in China". However, a lot of points that Vivek raises are just not true, plain wrong, or simply laughable.
[With inputs and corrections from Rohan "RN" Naravane, who was just as baffled upon reading the piece.]
For example, he begins:
[Apple] is insulting Indian consumers by marketing refurbished and discontinued products.
I'm sorry, what? The company is insulting them?
Let's set a few things straight:
Apple is not going to completely stop selling their products and only sell refurbished products. You, as a customer, get to choose whether you want to buy a new product or a refurbished one. The company isn't forcing the refurbished products on you.
ALL refurbished products come with the exact same one-year standard warranty that it offers on its new products.
You can purchase AppleCare Protection to extend the warranty of refurbished products, just like you can for new products.
Apple sells refurbished products everywhere, including in the US. Yes, even iPhones. That must mean it is insulting its customers in its home country too, isn't it?
These are not "second-hand" products that Apple is supposedly "dumping" in India. It's a practice the company follows in many countries, including the US. You can either buy a product at full-price, or if you wish, you can buy a refurbished product at a lower cost.
Moving on:
It is notable that Apple is one of the very few companies in Silicon Valley that doesn't have even one executive of Indian origin in its leadership team or board. This may be one of the causes for its cultural insensitivities, and lack of understanding of the market it is trying to expand in. And, maybe this is what gives Google and Microsoft their advantage in India.
Oh. My. God. Do you seriously believe that the focus on the India market that Google and Microsoft have is because they have an executive of Indian origin on the leadership team? Do you actually believe, with a straight face, that Apple will suddenly start focusing on the Indian market better if they have someone of Indian origin on their leadership board? Or that that is the only way they will focus on India?
Hah!
RN: Honestly, I don't see what the lack of an Indian-origin person has to do with the company's focus in a particular market. Satya Nadella and Sundar Pichai are essentially Americans who made it to where they are on the basis of merit. If companies started hiring on the basis of a person's ethnicity instead of merit, doesn't it eerily feel similar to the reservation system still prevalent in India?
He writes:
Apple needs to recognise that it enjoys practically no brand recognition among the hundreds of millions of Indians who are buying their first devices.
(Emphasis mine)
Read that once again, and try to hold that laughter in.
RN: This is probably the most hilarious line in the writeup. Apple does enjoy brand recognition — it's a brand that most people in the country cannot afford to buy, but many aspire to own some day. Ask ten people on the street in India about Apple and there's a good chance eight will know who they are.
It's not just people that aspire the Apple brand, competitor brands aspire it too. Just look at the knockoff designs of many Android phones in the market that try to look like an iPhone — be it hardware-wise or software-wise.
Vivek continues:
Also, Apple doesn't offer any product lock-in schemes to Indian consumers as it has to its western customers, who have owned other Apple products first and are now buying smartphones.
I'm not sure what Vivek means by that. Apple sells the exact same products to its customers in India that it does to its customers in the US or other western countries. Sure, the number of people who owned a Mac before buying an iPhone is far larger there, but the iPhone is now a device that can pretty much be managed on its own.
RN: The one Apple lock-in scheme that Vivek hasn't clearly mentioned is the iPhone Upgrade Program, which is currently only available in the US.
iTunes, for example, works best with a laptop or desktop companion. Most Indians don't own these, and never will.
Umm… iTunes only works on a laptop or desktop. Also, are you saying most Indians will never own a laptop or desktop?
RN: Although you can still use iTunes to backup apps, media, contacts, calendars, and every other content to literally mirror everything from your old iPhone to a new one, there's absolutely no need to have iTunes to use an iPhone today. Gone are the days when you had to connect an iPhone to a computer after the first boot to initialise the device — with iCloud backup, you practically don't have to practice this 16 year old method anyway.
And let's not even get into the lack of support for Indian languages — everything iPhone does is in American English.
The iPhone supports English (India) both as the phone's language as well as for Siri. You can also set your phone's language as Hindi. Other variations of English supported by Siri are for Australia, Canada, Ireland, New Zealand, Singapore, South Africa, and UK. All of these are separate countries that are not part of "America". Google has a brilliant tool to understand this, available at http://maps.google.com.
Siri's understanding for the Indian market is far from perfect, and Apple has a lot it can do to improve that. Google is far, far ahead in that race, but to say "everything iPhone does is in American English" is hilariously wrong.
Apple does have an Indian version of its music-streaming service, but it is inferior to those of local competitors such as Saavn, Gaana, and Hungama. The service is also expensive, and it has run into the same problem as the Apple India App Store — it requires credit cards, which less than 1% of the country's population possesses.
Apple doesn't have an Indian version of its music-streaming service, it has one music-streaming service that's also available in India. You know who doesn't offer its music-streaming service in India? Google, that's who.
Also, this "Indian version" is inferior how? Lack of content? User experience? Curation? Vivek leaves that claim on its own.
The single-user subscription to Apple Music is ₹120 per month compared to about ₹99 per month for Saavn or Gaana. Apple Music does however offer a Family Plan for 5 6 users at ₹190 per month, which is about ₹38 ₹32 per user.
h/t @prawnay for correcting me that Apple Music Family Sharing supports upto 6 users.
I'll also nitpick on the fact that 1.96% of India's population have credit cards as of March 2016, which if my math is correct, is definitely not "less than 1%".
[…] Chinese brands such as Vivo, Xiaomi, Lenovo, and Oppo are making major inroads in the country, and have captured a 46% market share, according to Counterpoint Research. These companies offer stunning OLED displays (which Apple does not have yet), state-of-the-art processors, and features that are popular specifically in Asian markets, such as dual SIM capabilities and selfie cameras.
(Emphasis mine)
Which phones exactly from these Chinese brands have "stunning OLED displays" that are better than the iPhone? Once again, Vivek leaves the claim on its own. Also, note that the hyperlinked text is "Apple does not have yet" for an article that says "Apple will embrace OLED displays starting with iPhone 8".
And state-of-the-art processors is what Apple includes in their iPhones and are known to offer far superior performance than their counterparts.
And using Google's operating system, Android, enables them to have Google Assistant converse in the Indian languages, including Hindi, which the assistant is learning.
The Google Assistant doesn't fully support any Indian languages. Hindi will be the first language, which Google has recently started offering, but doesn't officially list it on the assistant website yet.
RN: Sidenote — Google Assistant has rolled out to select Android phones that run Android Marshmallow and above, which as of this writing, make up only 34.1 percent of all active Android phones today.
Why then, would first-time smartphone buyers, with no brand recognition for Apple and much lower buying power than consumers in western countries, shell out more than 10 times the amount for an outdated iPhone when they can get devices with better features (and bundled with services) much cheaper?
There's that "no brand recognition" again.
But,
Well-heeled Indians, who can afford iPhones, want the latest and the best smartphone models, not the hand-me-downs Apple is trying to market here. They aren't buying iPhones because they are technically superior; they are buying them for social gratification and for their brand value. They need to be able to show off to their friends and relatives about having the latest American product.
(Emphasis mine)
So Apple is a company with no brand recognition, but people buy iPhones for their brand value. Got it.
Take the Lyf phones being marketed by telecom giant Reliance Industries for example. It's low-end smartphone model sells for $45 and comes with three months of unlimited data, text, and calls. Higher-end models cost about $150 and have features comparable to the iPhone 7 — which sells for $750 and more.
RN: "Take the Tata Nano sold by Tata Motors for example. It's a low-end car that sells for about Rs. 3,00,000. Higher-end models cost about Rs. 6,00,000 and have features comparable to a Volkswagen or Skoda — which sells for Rs. 15,00,000 or more"
Apple doesn't even seem to be thinking about reaching the millions of potential new buyers in India.
RN: Well, they did try to sell refurbished iPhones in the country to get the product within the reach of more people.
And what about service centres? Chinese vendor Oppo, for instance, achieved great success in India by selling its phone through 35,000 electronics retailers and setting up 180 service centres, according to Bloomberg.
RN: If you go to Apple India's support site, you'll find 17 service centers just in Mumbai, 23 in Delhi, 15 in Bengaluru, 8 in Chennai, 7 in Hyderabad, 4 in Pune, 6 in Kolkata, 6 in Ahmedabad, 7 in Kerala, etc. The tally of just these cities is 90+ service centers, already half of what Oppo has. Pretty sure if I continue searching for every city in India, that number will come close to 180, if not more.
What's important is that most of Apple's service centers are exclusive, single-brand outlets. The same can't be said about service centres for Android phone manufacturers, many of which are shared entities that don't offer the good experience that Apple service centers generally do (there are enough stories on the Internet to validate this claim).
Well-heeled Indians, who can afford iPhones, want the latest and the best smartphone models, not the hand-me-downs Apple is trying to market here.
RN: Since the iPhone 4s in 2011, Apple has brought every latest iPhone within a two to three month period of its launch in the US. Why the author only chooses to focus on the whole refurbished or the iPhone 6, as if they're the only products Apple sells in India, is beyond me.
With 500 million more people about to be connected to the internet via smartphones, India offers a sea of opportunities. But Apple needs to come off its pristine white high horse to be able to navigate this sea.
RN: "Mercedes needs to come off its pristine white high horse to be able to sell affordable cars, since there are millions of people wanting to buy one."
Is Apple really failing?
Articles and op-eds like these are seen plenty these days, but what the authors either fail to realise, or are oblivious to the fact that Apple is a profit-making business, not a charity. Everything it does is primarily done with the intent of making more money for itself and its shareholders. To them, the market-share is not as important as actual profits, which the company seems to be really good at.
That said, there's so much more Apple can do for India, beginning with the software front. Apple Maps, Siri voice recognition, service-integrations are areas where the company can improve massively. It's hilarious that many cars launched in the country since 2016 support Apple CarPlay, yet today you can't use it to do something as basic as turn-by-turn navigation. But I'm hoping that's exactly what the company intends to do with its new R&D center in the country. I mean, take a look at its job postings for Hyderabad & Bangalore.
Hyderabad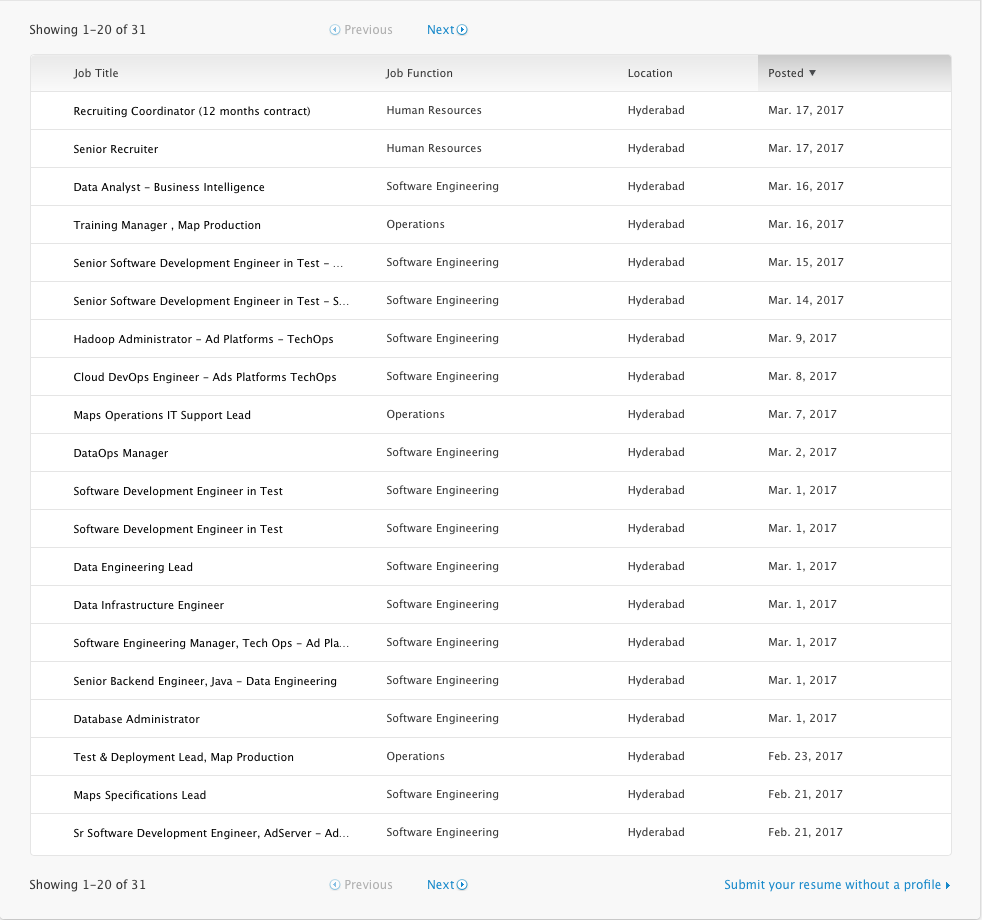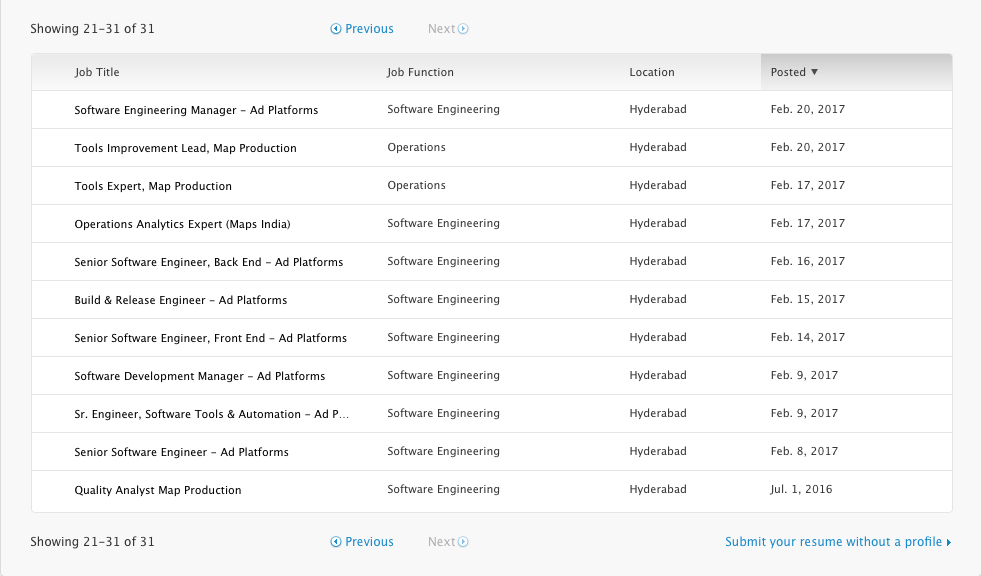 Bangalore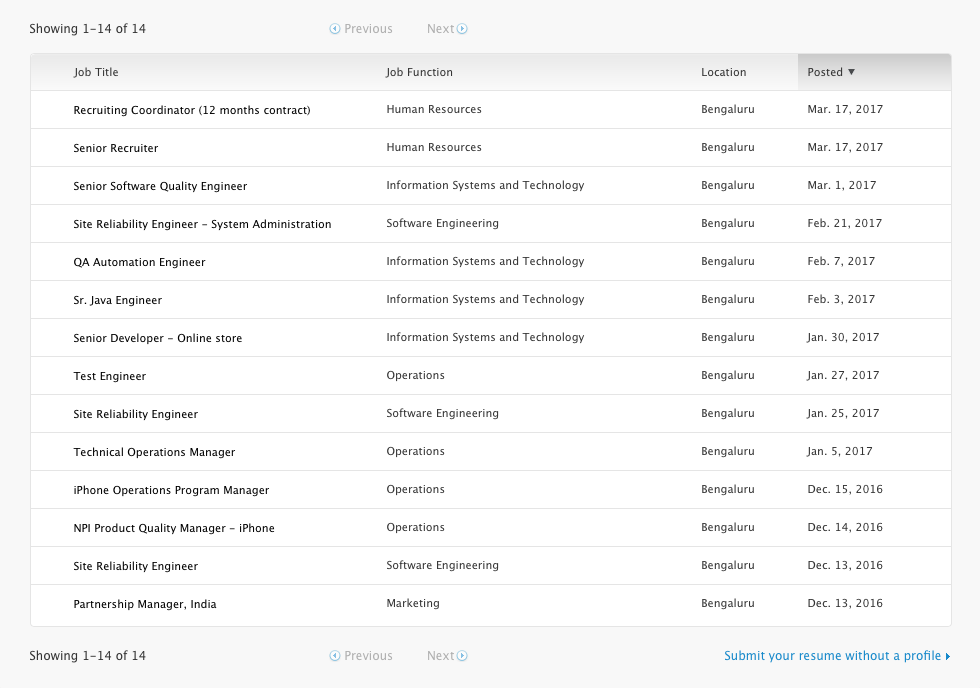 Yes, some Apple products are sold at a much higher markup in India when you compare them to other products, whose Indian Rupee price tag isn't too different from the American Dollar price tag and this is something Apple needs to get better at. But none of this means that the company is "destined to fail in India", does it?
March 18, 2017: Updated with link to VentureBeat.
March 18, 2017: Apparently, Apple has drastically reduced the pricing of the iPhone SE in India. According to a report on TechPP, the iPhone SE is available starting at ₹19,999 now.