With WWDC '19 just around the corner, Apple has just published a new "Principles and Practices" page that attempts to make a case for how the company runs the App Store.
We created the App Store with two goals in mind: that it be a safe and trusted place for customers to discover and download apps, and a great business opportunity for all developers.
The page features and details positive things about the App Store and lists stats about how many apps Apple reviews every week, and how many apps are approved or rejected.
As part of our rigorous app review process, we use a combination of automated systems and hundreds of human experts. This team represents 81 languages across three time zones. We work hard to maintain the integrity of the App Store. In fact, since 2016, we have removed over 1.4 million apps from the App Store because they have not been updated or don't work on our most current operating systems. This helps unclutter the search for new apps, and makes it easier for users to find quality apps.
Apple is also listing several apps that the company says competes with Apple's own apps, although the company fails to mention how the company still has the upper-hand in most of those cases.

Let's take the case of mails apps, for example. There's no way Gmail, Spark, Outlook and Yahoo! Mail are on the same level playing field as the built-in & native Mail.app on iOS. You can't set either of those apps are the default mail app on iOS instead of Apple's Mail app, so all mailto: links still open Mail.app. Similarly, Apple's own web-browser Safari and messaging app Messages have the upper-hand over other "competing" apps.
And then there's this: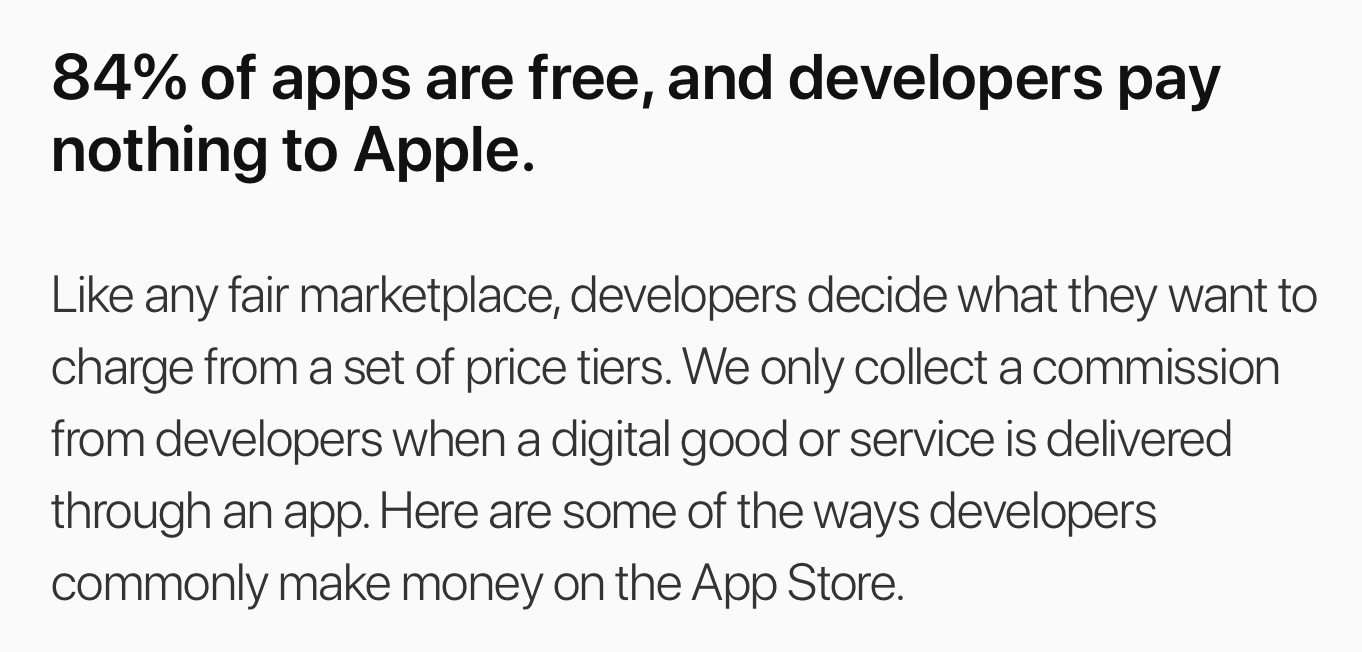 84% of apps are free, and developers pay nothing to Apple.
I get what Apple is trying to say here, but the "developers pay nothing to Apple" bit is highly misleading when you consider that one simply cannot publish an app on the App Store without paying $99/year to Apple for the Apple Developer Program membership. Even if one has to publish a free app for iOS, they need to shell out over ₹ 7000/year just to sign up for the membership.